Cruella has never been on my radar. Ever since it was announced, I have shrugged off every mention of the film with a "meh, not for me". This is probably down to me having no emotional or personal connection with the source material, 101 Dalmatians. All I really knew about it was Cruella De Vil is not a great person and wants to skin a bunch of puppies. When you put it like that, it doesn't sound like a person you'd want to make an origin story for. However, if you went off your initial worries, you'd have stopped the world from having a fun, stylish and surprisingly compelling villain origin story.  
Emma Stone is playing the title role this time in a performance that blows most of the Disney Live-Action remakes out of the water. Her presence on screen is genuinely incredible, easily fitting into both alter egos of Estella and Cruella – the latter really giving her some room to play around in. Yet, it feels darker (in comparison) to anything else we've been given from the house of mouse in recent years, which makes it quite a breath of fresh air.
It also doesn't get itself too bogged down in staying true to the character seen in the animated movies, or live-action remakes for that matter. Those Cruellas are simply a jumping-off point, a mere suggestion of where the character might end up. Stone's version is a little more sympathetic due to some trauma explained in the opening 20 minutes of the movie. She's also a bit more fun and, in all honesty, maybe dials down the pure evil by a smidge. Nevertheless, it begins her descent into madness, and the foundation is very much laid for sequels and the like for her to go deeper, darker and maybe finally kill some puppies.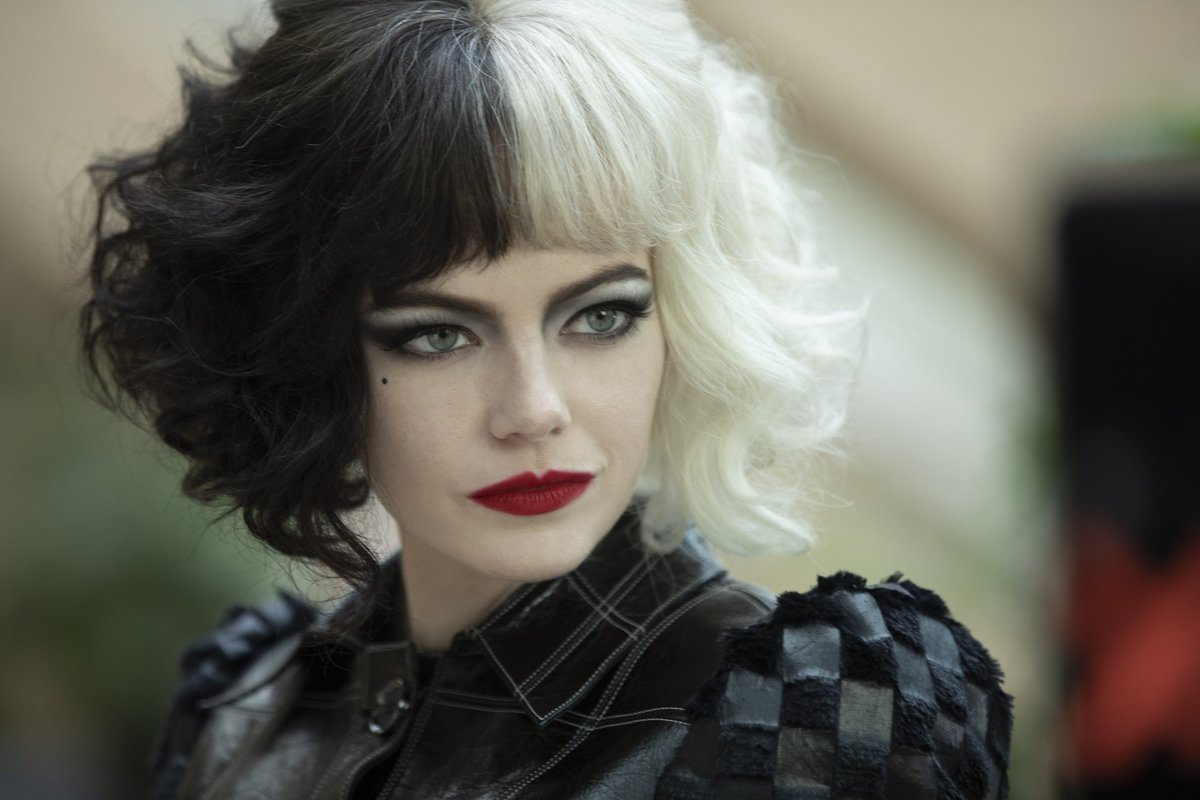 The supporting cast does a good job, especially Cruella's two sidekicks, Joel Fry and Paul Walter Hauser, providing some fun amongst the sheer volume of evil. Taking the evil crown in this film, though, the baroness played by Emma Thompson delivers a good marker for what pure evil actually is. You can tell she is having fun in this role and gives an excellent performance for the films baddy.
The aesthetic of this film is gorgeous. The world of 70s era high fashion is drenched all over this film with incredible dresses, outfits and sets in every frame of this film. It is beautiful and captured with some gorgeous cinematography in a 1.85:1 aspect ratio that maybe is slightly colour graded to remind you of the movie Joker from a couple of years ago. One of many similarities that have been pointed out with that movie, but for me, that's where it starts and ends.
One of the main downers, the score is lost and forgettable, which is a shame because a lot of it bangs if you sit through the credits. The reason for this? It's lost in the sheer number of needle drops in this movie which, barring one playing of Blondie, doesn't really match the punkie aesthetic in the costumes and general world that Cruella finds herself in. ELO's Livin' Thing is probably counting as the best but the weirdest choice for the film.
It is safe to say Cruella surprised me immensely. The film really had no right to be as good as it was and has ended up ranking very high among my favourite live-action outings for Disney. Stone is fantastic in the role, so much so I watched quite a few more films with her in this leading role. I actually am excited to see where it ends up taking us, especially considering the mid-credits scene. For now though, I'm going to enjoy this movie repeatedly until I find my next obsession and maybe get round to watching the original cartoon.
Cruella is in cinemas now and available to buy on Disney+ Premier Access